All counters MUST be supported at the wall, with a bracket.  This bracket is critical to the structural integrity of the completed vanity.  The standard Palmer bracket is aluminum with a sandblasted finish and measures 1-1/4" x 1-1/4" x 1/8".  The length of the bracket is a function of the width of the console.
This wall bracket secures the sink top to the wall and carries the load of the sink top at the intersection of the wall, and the balance of the load is carried by the console legs.  The bracket is concealed and not visible from a normal standing or sitting position.
Given the load on the bracket, it is very important
that it be fastened to framing or solid blocking in the wall with the
included (or other proper) fasteners.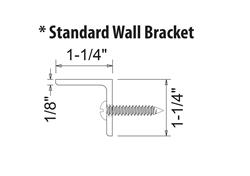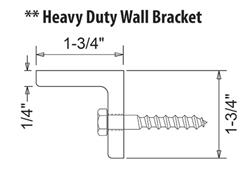 When installed properly, our leg systems will easily support the weight of a stone top 1-1/4" – 1-1/2" thick.  For thicker stone tops we recommend the use of our optional heavy-duty bracket which measures 1-3/4" x 1-3/4" x 1/4" and is lagged to the framing in the wall.
Our legs can hold a substantial amount of weight, but it is important that the feet are "pinned" to the floor,and "pinned" or siliconed to the underside of the sink top.