Palmer's new hammered ball fittings have arrived! 
The latest home design trend of pairing black and gold tones, makes this the perfect time to showcase the hammered fittings paired with our gloss black solid acrylic rod as the ideal accent for today's stylish bath environments.
Each fitting is CNC machined from solid brass. Each facet of the hammered ball fitting is meticulously tooled by hand by skilled artisans. The faceted shimmer of the hammered fitting glimmers with a "gem-like" quality enhancing its surrounding materials.
Pair the Hammered Ball fittings with our Colored Acrylic rod to create a unique Palmer console and achieve the perfect accompaniment for your counter top.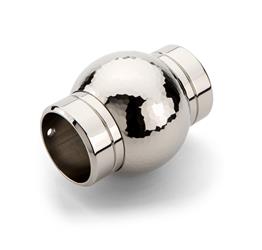 Palmer's Acrylic Rod is crystal clear, never ages, and imparts a fine "jewelry-quality" to your console. This solid, cast Acrylic Rod, available in 1.5"diameter only, is domestically produced for Palmer to our demanding specifications, and is available in Perma-Clear, Seafoam Green, and High-Gloss Opaque Black.  Read more about our Acrylic Rod here…