Keep a sharp eye out for brass to become one of the major players in interior design. In fact, warm metals have been making an appearance in both residential and hospitality projects for a couple of years now. Particularly effective in bathroom and kitchen spaces, living finishes such as brass, copper, and bronze will continue to dominate through 2017, according to the latest design trends.
Palmer industries creates custom sink leg consoles and architectural metalwork in three lustrous living finishes: Un-Laquered Polished Brass, Un-Laquered Aged Brass, and Oil Rubbed Bronze. Palmer suggests pairing these finishes with raw, natural materials such as marble and wood.
The "New" brass is also a decidedly "old" one – it's not the highly lacquered brass of the late 1980s, but a softer version that, with no finish, will naturally age in time. It is being seen throughout the interior design industry in furniture, lamps, hardware and accessories. The new living finishes resemble closely the well worn, un-coated brass of the 1880s; much less Brady Bunch and more Downton Abbey.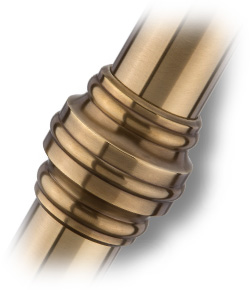 Warmer, earthier shades are definitely trending back in vogue… The movement has been away from the high shine, perfect finish of gold, towards metals with a warmer aesthetic that have a pleasing patina. Today's brass finishes are glamorous without being ostentatious. Now, it's about using a raw material which will yield a lovely patina with age and become more attractive over time… without the high shine. Good quality materials are a great investment and they will never go out of style.