Our History
Palmer Industries is the leading manufacturer of vanity sink legs today.
The trail we've blazed since our inception has everything to do with how we attained this distinction…
and also, why we are so committed to engineering beautiful sink legs made to last a lifetime.
THE PALMER INDUSTRIES STORY
By Anthony Palmer, Founder

Many people ask, "How did you start this business?" and I always say it's a long story. It's not as though I woke up one morning and decided to open a specialty vanity sink leg, brass fabrication, decorative hardware and fireplace business.
After earning a degree in electrical engineering at Worcester Polytechnic Institute, I worked briefly in Cambridge, MA as an engineer overseeing the production of semiconductors for the NASA space program. When that program suffered cutbacks, I found myself out of a job, but had gained a girlfriend, Anne.
While traveling to New Hampshire for a Sunday drive, we stopped at a yard sale and purchased a brass bed for $10. It was painted an ugly green but it had the rails and was otherwise in good shape. After spending countless hours stripping the paint and then polishing the brass to a good shine, I then put an ad in the Boston Globe and quickly sold the bed for $100. As I was unemployed at the time, this set off the proverbial light bulb in my head…I can do this again!
Over the ensuing years we established a store in Cambridge, MA and then Harvard Square, developing our capabilities in brass refinishing and antiques. I decided to move back to my native RI in 1976 to set up a brass specialty store/antique store and metal refinishing business.
With the refinishing operation now offsite, in a manufacturing zone, I had space to refinish and repair all kinds of brass, bronze and silver, and also started to fabricate brand new brass beds. With experience gained from purchasing components at the wholesale antique district in NYC, we decided it was time to look into reproductions.
One of the first reproductions I sold was Baldwin Hardware, which at the time, had a huge line of candlesticks, doorknockers, lighting and even some small cabinet hardware. This was much easier to sell than antiques and fabricated goods, so I added more lines, until the store was about 75% new reproduction type brass items and 25% antiques.
We established a new showroom in frontage space that had opened up on Charles Street in Providence, so I consolidated the refinishing business into the back room at this location. I realized I was selling practically no antiques by this time, so changed the name to Brassworks in October, 1980.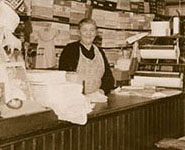 We grew our brass reproduction and new products lines, adding the Baldwin lock line after much effort to convince the sales rep we were worthy. We started with a total of one mounted mortise lock, the Lexington in polished brass, and it turned out the rep was right: there was a STEEP learning curve to selling and installing these locks. As luck would have it, one of the first sales I made was to a family friend, who was building his own home at the time. After buying and installing one mortise lock perfectly, he offered to install them for my customers. Between the two of us, we learned everything there is to know, both good and bad, about mortise locks.
In the mid 80's and early 90's polished brass was very, very popular and we were quite busy, now with Wesley Allen brass beds, Baldwin Hardware, and a myriad of brass accessories, such as planters, candlesticks, hall trees and lighting. Our refinishing and fabrication facility was busy as well, as it seemed every new restaurant was decorating with brass railing, brass bar accents and brass door hardware. We also added brass and glass fireplace doors, as well as a much broader line of fireplace products.
In 1986, the current building we occupy came up for sale and I immediately made an offer and purchased it. We had to renovate, move and make displays but now I had my own building with an up to code refinishing department, fabricating department on the entire second floor and a nice showroom and offices on the first floor.

Decorating trends changed over the years and polished brass fell out of favor, but we were quick to move along with the changes and readily displayed all the alternate options, such as chrome, satin nickel, bronze and stainless steel. This prepared us well for what happened next:
One day, a sales rep asked for a chrome leg stand to support a marble topped sink in a bathroom. Since we worked with brass railing for the past ten years, it was no problem. The sales rep was pleased and came back a month later, asking if we could build another one. After we had made three or four of these, it was suggested that these leg bases could be marketed to other hardware/bath dealers.
I was apprehensive, as making one or two systems was not a problem, but to sell them at a wholesale level meant I had to have photographs, a catalog, price list, and of course, the ability to make many more of them and to a much higher quality. I tentatively agreed and, before I knew it, I was in the leg system business. Now, I had to determine a name for this new business.
My mother's maiden name was Palmieri and her brother had on occasion used the name Palmer, so I had adopted that name at the time myself, and the name Palmer Industries was born. It was somewhat of an inside joke, as we were far from an "industry" at the time, barely having even one product! But the name stuck, and we continued to make hundreds of improvements to the product, process, literature, packaging and distribution until, along with the help of my cousin, Mark Tanzi, current owner and President (and a "Palmieri-Palmer" himself), we have achieved a product we are very proud of and that has enjoyed great success.