Customization
IF YOU JUST NEED A CUSTOM SIZED CONSOLE, OR REQUIRE A COMPLETELY CUSTOM DESIGNED PROJECT, PALMER WILL BUILD IT, JUST FOR YOU
AT PALMER, CUSTOM SIZING IS NOT CUSTOM - IT'S WHAT WE DO EVERY DAY !
Each and every leg system is built to order, one at a time, to your exact size
Because Palmer hand builds ALL leg systems to order, we can easily adjust the width, depth, and finished height of your leg system to suit your exact needs for a modest additional cost.
Give us your counter dimensions
and we'll deliver an exact fit.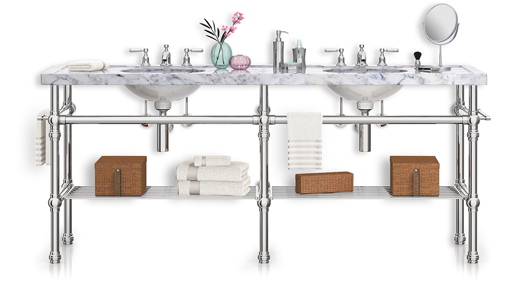 IF YOU CAN DREAM IT... PALMER CAN BUILD IT !
Palmer is a Boutique Designer & Manufacturer
From your inspiration to the final polishing touch, Palmer's dedicated team of engineers and artisans can take your project from conception to completion.
Provide us with your simple sketch, magazine clipping, or concept image from Houzz or Pinterest, and Palmer will quickly propose a solution to accommodate your design intent.